There could be a few causes if your garage door opener is not working properly or not working at all. Depending on the problem, it could be a quick fix from one of our professional garage door technicians. If one of the concerns below seems familiar, it could be time to contact a garage door contractor for replacement.
Safety
Safety is probably your top concern, especially if you have children or pets in your home.
As of 1993, safety sensors have been required in garage doors in Canada. Safety sensors are typically a beam of light that will stop the garage door from closing automatically if something crosses its path. This not only protects your family but will also keep items in your garage like vehicles and bikes safe.
Another safety concern for the items inside your garage is theft. Keyless entry systems, like garage door openers, use one of two systems to open and close: fixed code entry, or rolling code entry. Rolling code entry means that every time your garage door opens, the code transmitted between your remote and garage changes, making it less vulnerable to theft. This feature is standard on new garage door openers.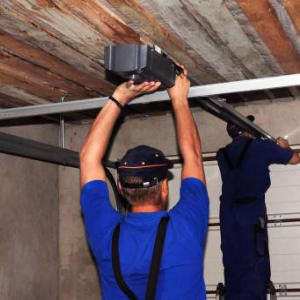 Convenience
There are numerous features available in newer garage door models that make them well worth the investment.
Convenience features now go above and beyond keypad entry and include remote entry options programmed into your car or your smart home system. This enables you to control your garage opener from programmable buttons in your car, or from miles away using a smart home system and wifi. Certain smart home systems can also notify you of potential theft if your garage opens unexpectedly.
Battery backup systems are another convenience feature available in newer garage door openers. They enable you to open your garage in the event of a power outage or failure, making your garage door opener much more reliable.
Noise
To put it simply, new garage door openers are quieter than older models.
If your garage is known to wake up the whole house as it opens, a new opener will help you sleep more soundly. Chances are your noisy opener runs on a chain drive system. You'll know you have this type of opener if the mechanism looks similar to the chain on a bicycle.
Two quieter types are screw drive or belt drive style openers. Belt drive style openers are the quietest option, but screw drive openers can require less maintenance over time as they have fewer components.
Age
Ultimately, whether or not you need a new garage door opener comes down to age. Garage door openers typically last 10-15 years but can wear out sooner without proper maintenance. Newer models come with added features to improve safety and convenience, and are generally quieter.  
If you're ready to replace your garage door opener, contact us today. We offer same day service and will match any competitor's written quote.